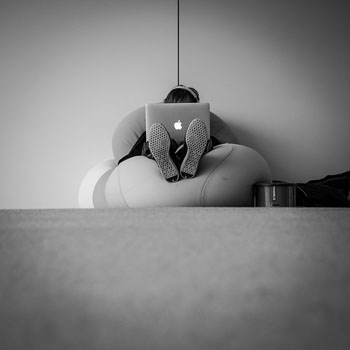 4 million people worked from home in 2012, with a 13% increase in the last 5 years. What employees used to see as a once a week perk in companies that had the infrastructure to support it, has rapidly turned into a fast growing trend. And it shows little sign of stopping.
Contributing factors to this include significant advances in affordable technology, faster broadband and cloud based services. In a time of double and triple dip recessions, employers are looking at ways to cut costs. This can be by outsourcing or allowing staff to work from home, either way the savings can be considerable.
Advantages:
– Real flexibility: allowing people to work to their own timetable. Get up early, stay up late or work weekends, just as long as timescales are met.
– Money and time: not having to travel to work saves both, as well as benefiting the environment.
– Increased productivity: no noise or distractions from working in an office atmosphere means better concentration and ultimately more achieved.
We're big advocates of agile working at Platform Twenty, and many businesses are catching on to the benefits of remote workers. You can hire the best talent to work on your project (regardless of location), overhead expenses can be reduced dramatically (especially if you downsize the office space or get rid of it completely) and studies have shown it can also improve productivity.
However we're also aware of its potential drawbacks; people may feel isolated, cut off from colleagues, miss the ability to bounce ideas off each other, and find it hard to stay focused.
Good communication is the key to making remote working work! Team members need to be able to collaborate easily by sharing resources and ideas quickly and effectively. Luckily a vast array of online tools exist to help achieve this. Being the helpful people we are at Platform Twenty, we've put together a list of the ones we find most valuable.
Tools for organising your projects
Milanote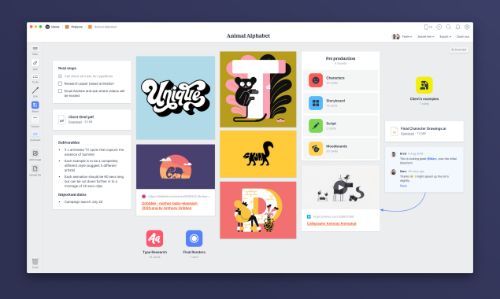 is a tool for organizing your creative projects into beautiful visual boards. Created to replicate the feeling of working on a wall in a creative studio – visual, tactile and sometimes a bit messy – Milanote is a great fit for freelancers in both the marketing and design spaces. Milanote has heaps of built-in templates to help you get started with a variety of different projects, from creating a moodboard to set out the visual direction for a project, to writing that perfect creative brief. Its sharing features make it a great option for those who regularly provide work to clients for feedback.
Milanote's basic plan is available for free with no time-limit.
Top tools for sharing and storing files
We looked at cloud based storage and sharing apps Dropbox & Google Drive in our previous post. Both have strong collaborative benefits, as listed below. However a new contender in this field is BCSocial.
BCSocial provides a limitless cloud storage space. It can be accessed anywhere on any device and users can share, comment on and in, any content. They're claiming it will reduce the need for emails. We'll be reviewing it in more detail in a future article, it's definitely one to keep an eye on.
Dropbox Collaborative Benefits – First 2GB free (can be increased by referring friends to service and paid subscriptions offer up to 500GB of storage). Can set up access for shared folders, making it easy and secure to share files with remote colleagues. Dropbox for Business (1,00GB of storage) allows you to switch access from one user to another, great when outsourcing to different people for various projects.
Google Drive Collaborative Benefits – stores up to 15GB for free, comes with Google's search tools making it easy to find that allusive file a colleague didn't name correctly. Provides the ability to work live on documents with co-workers without ending up with multiple document versions.
Top tools for remote meetings
Skype is a great collaborative tool for thoseworking remotely, allowing voice, video and instant messaging to other Skype users for free. As well as your home PC and laptop, it works on tablets and smart phones, perfect for when you're out and about.
Collaborative Benefits – at the end of last month Skype announced that their Group Video Calling (GVC) would be free of charge to users of Windows desktop, Mac and Xbox One, with other platforms following shortly. You can also have voice calls of up to 25 people. The messaging tool is as close to sticking your head up over the partition and asking your colleague a quick question as we can find.
Webex provides a platform for online meetings, web conferencing and videoconferencing. Meet online and share files, information, and expertise. WebEx is available across most devices including iPhone, BlackBerry and any Wi-Fi or 3G/4G-enabled mobile device.
Collaborative Benefits – we love screen sharing, it allows you to show colleagues and clients what you're working on & see their reaction in real time. Webex allows you to annotate when screen sharing, a great tool for highlighting exactly what you're talking about. Schedule invites and reminders so everyone turns up when they're meant to. Free for meetings with up to 3 users, then various packages available.
Top tools for project management
Basecamp is a great project management tool which allows you to start message threads, assign tasks and view work scheduled on a calendar. It also integrates with email and allows you to store related documents and files. Having been around for 15 years they know what they're doing and aren't about to disappear. Easy to use across various platforms, with apps for iPhone and Android users.
Collaborative Benefits – Easy to use interface. See how projects are progressing, check to-do lists and get notified when colleagues mark an item as done. All without the need for constant emails. Great for continuity when working across time zones. Free 60 day trial, and then packages starting at $20 a month for 10 projects and 3GB space. Can assign people to projects without them needing a paid account.
Trello is another a project management tool, potentially simpler to use then Basecamp and a big hit with fans of Kanban boards. We'll be looking at Trello versus Basecamp in a future post so don't forget to fill in your details on the right and we'll keep you updated.
Top tool for Client Relationship Management (CRM)
A CRM system is an essential collaboration tool, providing a single view of the customer which everyone in the company can see and add to. Recent studies show companies with a fully utilized CRM system can increase sales by 29%. They provide important information for effective marketing campaigns, show the sales pipeline and help you make the most of customer feedback.
Our favourites are the self-hosted CRMs such as Zurmo, Sugar and V-Tiger. Choosing the right CRM needs a post all of its own, and we're not going to let you down! We'll be publishing one shortly so sign up and don't miss out (we hate spam and promise to only send you the good stuff)!
Taking collaborative working to the next level
Inspired by the above but take it a step further? Check out Sqwiggle. The app shows constant updated stills from your co-worker's webcams. Easy to see if they're around, and by clicking the picture you can instantly chat to them. No calling, no accepting, just immediate communication.
We'd love to hear your remote working tips and learn about any awesome tools you use, so please share in the comments and get social with us on Twitter and Facebook.