WooCommerce, the Essential WordPress Plugin to Power your eCommerce Site
In 2015, online spending in the UK is predicted to reach £107 billion! That means, on average, each one of us spends over £1,500 online each year.
That's an increase of 17% from £91 billion in 2014, and nearly 50% more than 2012 when UK shoppers spent an average of £1,083 online.
According to data from Wipro Digital Research, 45% of U.K. shoppers reported doing the majority of their shopping online back in 2013. Their newest survey found that 71% reported making the majority of their purchases online.
Online shopping is clearly big business, and shows no sign of slowing down. So it comes as a shock to see in a recent report that only half of UK business websites have eCommerce features to enable them to sell their products or services online.
If you're not selling online, think about the size of the audience you're missing out on. eCommerce allows you to sell your products anytime to anywhere in the world.
Benefits of an eCommerce site:
1. Reach new customers through search engines (by which we clearly mean Google).
2. Sell your products or services anywhere you're happy to deliver them to. Your business can now be worldwide.
3. Allow customers to browse and order when it's convenient for them. You're now open 24 hours a day.
4. Collect lead and customer data for email marketing.
5. Increase visibility of store promotions.
6. Your social media followers can buy from you even if they aren't physically near you.
We already sell on eBay or Facebook, isn't that the same thing?
Many small businesses have realised the potential of selling online, and sell their products via Facebook pages or on eBay. The issue with this being it's not a great user experience for your customers and can look unprofessional.
A big benefit of an eCommerce site is that it evens the playing fields somewhat, allowing even the smallest of businesses to compete with the largest (after all, you never see a large, successful business sending their customers to eBay to buy their products).
An integrated eCommerce solution within your business website enables you to manage your whole sales process, from advertising to taking payment and organising delivery.
Got it, eCommerce over eBay! But isn't it expensive?
Go back a decade and you'd be lucky to get a basic eCommerce site for less than 50k but thanks to sites such as WordPress and plugins such as WooCommerce they're now much more affordable for small and medium size businesses.
Ok we know about WordPress but what the heck is WooCommerce?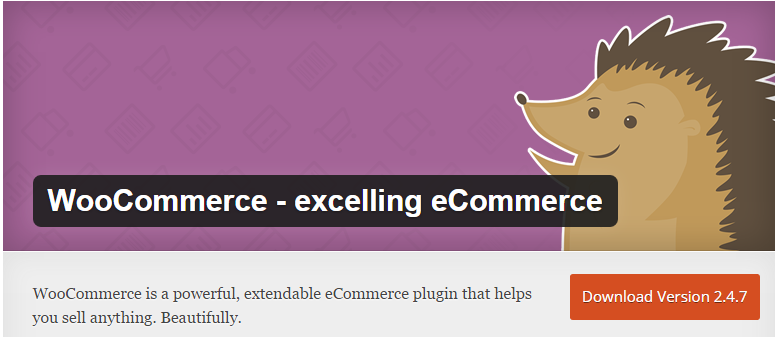 WooCommerce is a free eCommerce plugin that allows you to sell both physical and digital goods online. It's built to integrate seamlessly with WordPress, has been downloaded more than 3 million times and is used by brands such as Entrepreneur, Cosmopolitan and Harley-Davidson.
According to their site 'WooCommerce now powers 30% of all online stores – more than any other platform'.
Key features of WooCommerce include; PayPal Standard integration, sales and reviews reports, multiple shipping options, flexible couponing system and easy inventory management.
And it can do a whole lot more with these extensions to expand functionality.
Extensions we love:
With premium extensions WooCommerce allows you to do, and offer your customers, so much more. Below are a few of our favourite WooCommerce extensions.
1. Follow up Emails – Email marketing is still hugely important, when it comes to converting your efforts into sales, email still outperforms search 2 to 1, and social 8 to 1. This allows you to build email templates to send single emails to customers, offer discounts with integrated coupons, automate your email marketing and has a reporting on email sends, opens, clicks, and communication by customer
2. Wishlists – allow visitors to create and add products to an unlimited number of Wishlists. Guests can create Wishlists which'll be stored for up to 30 days and registered customers can store them indefinitely. Customers can assign their Wishlists as public, shared or private and can share them via social media and email.
3. Dynamic Pricing – gives you a system for creating four different types of bulk discounts and price adjustments; Advanced Product Pricing, Advanced Category Pricing, Simple Category Pricing and Simple Role Based Pricing.
4. Waitlist – lets you track demand for out-of-stock and backordered items, making sure your customers feel informed, and therefore more likely to buy.
5. Bookings – allows you to sell your time or date based bookings, for example, if you put on events and want people to be able to pay to book their place.
6. Recommendation Engine – allows you to configure Netflix and Amazon style product suggestions for your customers, automatically recommending products based on view history, purchase history and products that are frequently bought together.
The above are some of our favourites but there are lots available out there. The extensions aren't free so it's worth shopping around. We've included some of our go-to place to find them below.
1. WooThemes themselves – be warned there are currently 350 extensions to choose from! You have a choice of single or multi-site license but it's quite expensive, however the price does include 1 year of updates.
2. WooGang – These are cheap to buy as one-off's but they don't get updates. Alternatively you can subscribe monthly which gets you access to all extensions and updates.
3. There are also some on the WordPress plugin repository. But be careful and check the reviews to make sure it'll work properly before installing.
4. CodeCanyon – These are paid for extensions but aren't very expensive. Again, check the reviews.
Great, I'm convinced. I'm off to get a WooCommerce theme.
There are loads of free, and paid for, WordPress WooCommerce themes you can use (here's Sitepoint's 10 of the Best WooCommerce Themes).
However, using a theme means you run the risk of looking like other sites and also limits how much (if at all) you can change things to match your brand or requirements.
At Platform Twenty we design websites from scratch, using Photoshop to show you the design before we start coding the site. For an eCommerce site we tend to use the standard Storefront theme which has all the WooCommerce hooks and then create a 'child-theme' with the code required to customise the theme to match the design.
If you're interested in increasing sales and growing your customer base then get in contact today. We'd love to talk to you about getting your store online.