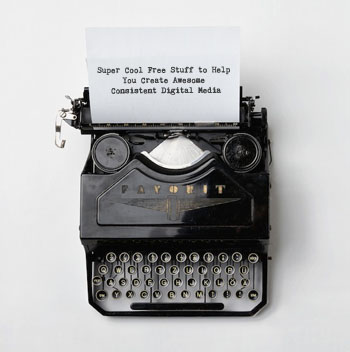 We're tech geeks here at Platform Twenty, hardly surprising for a web design and development company. We love any technology which makes our lives easier (hence the new Virgin pure machine in the office which means we never have to wait for the kettle to boil again!).
We've shared some of our favourite tools with you in the past, around working collaboratively and working remotely, two things that we're really passionate about.
Then whilst we were sat with a client the other day, going through the design process for their new site, we realised we have a go-to list of other 'shortcut' tools we use on a daily basis. In this article we want to share these with you, in the hope it'll make your day a little easier too.
Oh, and they're all free!
As well as designers and coders, we think anyone who's ever had to design a newsletter, put up a blog post or send out an eye catching email, will find this useful (but tell us if we're wrong!).
7 Steps to Digital Media Heaven
These are the apps we use to create awesome, consistent digital media.
'ColorPix is a useful little colour picker that grabs the pixel under your mouse and transforms it into a number of different colour formats. You can use the built-in magnifier to zoom in on your screen, click on a colour value to copy it directly to the clipboard, and even keep ColorPix on top of all other apps and out of the way. Best of all, there's nothing to install – just download the tiny app and off you go.'
Why We Like It
It's a simple to use desktop app which quickly & accurately gives colour in variety of formats (inc. CMYK, hex code and RGB).
What We Use It For
Anything where we want to copy or match a specific colour. For example, when creating a branded newsletter we can quickly grab the colours from the company's website or logo and accurately match them on the newsletter. It's also great when a client has seen colours they like on another site, or when they have a logo and want the website's colours to reflect this. We use it a lot!
'Font Awesome gives you scalable vector icons that can instantly be customized — size, colour, drop shadow, and anything that can be done with the power of CSS'.
Why We Like It
Firstly, we're suckers for anything with awesome in the title. Luckily this little gem lives up to its name. Font Awesome allows you to add icons to pages as fonts rather than images, this is pretty cool as it means you can choose / change the size, colour and background colour. It scales for responsiveness and it's a vector, meaning you can change it to any size and it will keep its resolution without pixelating. It also has a massive library which is constantly added to.
What We Use It For
At the design stage of a website (or any digital & print media) within Photoshop, and also on the webpage.
'Infinit lets you easily transfer unlimited files of any size, and to anyone, through a free application for Mac OS X and Windows. With Infinit, you can download files the second they're sent to you. All of your received files are saved straight to your Downloads folder. And if you're receiving audio or video, you can stream your media even before the download is complete!'
Why We Like It
Basically it's super-fast file sharing for big files. It allows us to share directly with other people we're connected to and it's a desktop app (which we like!).
What We Use It For
It's great for large file sharing on a regular basis, we use it when working collaboratively with designers and when our developers are working remotely.
'Helps website makers quickly get an indication of how their responsive site will look on the most popular devices.'
What We Use Them For
What's My Browser Size does what it says on the tin. We use it when making a site responsive as it helps us figure out at what point the code needs to change. So, for example, a menu might run across the top of a webpage, but when viewed on a mobile that might change to a drop down menu (to be more user friendly). This tool helps us figure out at what point we need to make that switch.
We use Responsinator as a testing tool to double check how the site is going to look on various devices (pc's, tablets, and mobiles) before actual device testing.
'Generate strong, secure, random passwords online.'
Why We Like It
It has a wide choice of settings, allowing you to choose characters, punctuation and special characters. With on average 30,000 new websites being hacked every day, and the majority of the sites hacked being legitimate small businesses (source Sophos Labs) – 'Password' just doesn't cut it as a password anymore.
What We Use It For
We mainly use it for creating super secure hosting and database passwords.
(For creating, and storing, website passwords we tend to use Lastpass.)
'JPEGmini reduces the file size of your photos by up to 5x, while keeping their original quality and JPEG format!'
Why We Like It
There are a number of these sites out there but this is the best one we've found.
What We Use It For
Anything where we need to reduce the file size while still keeping the quality. It's great for keeping page load times to an absolute minimum.
7. Free Stock Image Sites
These are a great resource for finding images without breaking any copyright laws or spending a fortune on stock photography.
Why We Like Them
They're big high resolution images, so perfect even if you need a full width background. Most of these sites are categorized which makes searching quicker (although sometimes we do like to just grab a coffee and scroll through).
What We Use Them For
Everything! Websites, blogs, newsletters, social media posts. Having images breaks up text, is more engaging and helps convey messages quickly.
(Check out this article for more information about copyright rules.)
Now it's Your Turn
We're shared our favourites, we'd love to hear yours. Do you have any tech that makes your day easier? Have any of our suggestions helped? Please let us know in the comments below or come over to Twitter and say hi!