Why a self-hosted CRM is vital to the success of small businesses.
All the systems your business is "meant" to have can be a little overwhelming right? Social media account management, email marketing tools, file sharing software. There's a lot of extra noise when it comes to systems in our businesses today, but a continually growing market (and rightly so) is that of CRM.
Worldwide sales of customer relationship management software (CRMs) grew 13.7 percent in 2013 to $20.4 billion compared to $18 billion in 2012, according to a recent report by Gartner. And they expect it to keep growing!
In our last post we told you a CRM system is an essential collaboration tool. It's also probably one of the most valuable systems that any small business can implement, with a fully utilized CRM system potentially increasing sales by 29%.
What is a CRM system?
A CRM system is a database of your clients and any interactions with them. It gives you the ability to maintain up-to-date customer information, convert leads and grow existing business. It's only as effective as the information that's put into it but used correctly it allows you to:
– Record and categorise your leads and contacts.
– Track all customer interaction between everyone in your company.
– Analyse sales data & reveal possibilities.
– Keep the customer data in the company even when employees leave or change jobs.
Deciding you need a CRM system is the easy part (the answer, if you have clients, is yes!). The difficult part is choosing one. As a small business we've toyed with several different systems and, being the awesome folks we are, we'd love to share our findings with you.
Self-Hosted CRM
For us, having the ability to host the CRM on our own server was important. We wanted control. We all know what it's like when you get used to doing things a certain way and then a forced product update comes along and changes all that.
When you're self-hosted you can decide whether to take the update or not. If you have your own website (which we're guessing you do!) then you'll already have hosting. This means rather than paying a CRM provider a monthly fee to host your system, you can add it to the same server as your website (e.g. www.mycrm.mywebsite.com).
A client of ours was happily using a system when the provider decided to completely change the user interface. As they weren't hosting the CRM themselves they were forced to take the update. Our client are not loving the new UI and have asked us to recommend another system.
This time they want us to set up the hosting.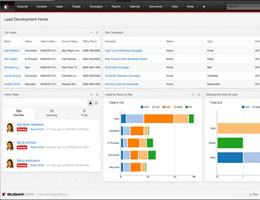 SugarCRM was one of the very first free, open source CRM tools available, launching back in 2004. They were quick to understand the value of their community and launched SugarCon 3 years later, an annual conference for Sugar customers, users and developers.
According to the website it's deployed by over 1.5 M individuals in 120 countries and 26 languages and "SugarCRM enables businesses to create extraordinary customer relationships with the most innovative and affordable CRM solution in the market".
SugarCRM announced in February 2014 that it would no longer release new open source versions of the Community Edition (free version) and it would be bug fix only.
The paid versions are popular but, starting at $35 per user per month, they don't come cheap!
Great if you're happy to pay but the free version has had its day!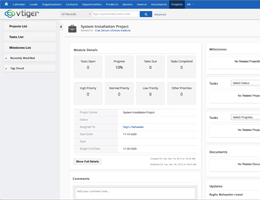 vTiger CRM is one of the few truly free open source CRM applications available. It was forked from SugarCRM back in 2004.  Reporting, a customer portal and an Outlook plugin are available in its free edition, these functions are usually only found in CRM paid versions. It's also one of the few systems that allows users to customise price lists, vendor lists, product catalogues and purchase orders.
In 2010 they launched vTiger CRM On Demand, a cloud-based CRM solution. While this has become their main revenue driver, according to their website they "will always be committed to providing the best open source CRM available"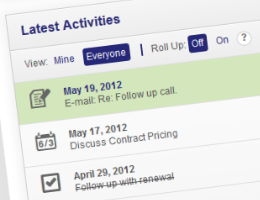 Zurmo, once the new kid on the block, is now more like the cool teenager at the party. They began development back in 2010 and launched in November 2011 with 0.5.1. In Q2 2014 they were on 3.0, with another 2 releases scheduled for later in the year.
They bill themselves as "an Open Source Customer Relationship Management (CRM) application that is mobile, social, and gamified." It's built to be simple and focuses on the most used features in the popular CRMs.
For us, the customisation element and gamification were big draws. Gamification rewards end users with badges, achievements and scores. It's been proven to improve user adoption.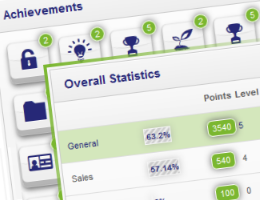 This is a big deal as 40-50% of CRM implementations fail, largely due to the team not getting on board.
Zurmo can be custom-built for your needs. It's simple to use and great for a bit of interoffice rivalry.
Being a company of mainly web developers and web designers (and therefore geeks) we have to admit that this is our favourite, it looks cool and the gamification hook does get us using it more.
We were going to stop there but when cruising round for some background info on the above systems we came across this little fella…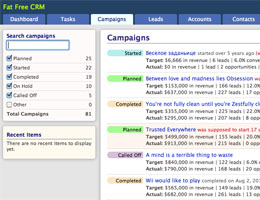 Fat Free CRM is another great open source, free CRM. However unlike the others which use PHP coding language, this one uses Ruby on Rails. It's aimed at small and medium-sized companies. Comes "out of the box" with group collaboration, campaign and lead management, contact lists and opportunity tracking. It also has a growing and dedicated "Ruby on Rails" developer's community.
"An open source CRM designed to be highly customizable; elegant in simplicity."
It's not the prettiest UI but looks like it has some good functionality. Like all the above it can be self-hosted, but whoever you host it with will need to offer Ruby on Rails support (which, luckily, we do!).
If Zurmo ever lose their way this is one we'll be moving too!
I want one, I want one, I want one
If you have an IT person (or someone with decent IT skills) they could probably install any of the above onto your server. Alternatively we can host, setup and configure one to meet your needs. Give us a call or drop us an email and we'd be happy to talk through the process with you.
So jump in and give them a try. Don't forget we're here to help if you need us.
We'd love to hear your experiences of CRM systems, have you worked in a company that completely nailed the process or was it just another unloved data entry system?